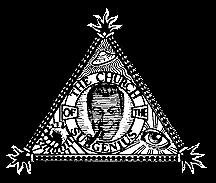 Here are a few of my older musings... (1995-1998)
---
:Untitled:

I awake,
Cold and lonely,
And open my eyes.
I gaze upon the gaping hole worn through my soul.
All I can feel is loathing for this life.
With every beat of my rotted heart,
Fiery hot torment rushes through my veins,
Then as a solitary moonbeam falls on me,
I gaze into the pool of despair.
Catching a glimpse of my reflection,
I see myself for the first time.
And I realize that all of my suffering is caused,
Not by the air in the heads of the naive as I once thought,
But in the cement in their hearts.
---
:Untitled:

Your on my mind when I turn out the light,
I dream of you throughout the night,
When I rise in early morn,
And your not there, my heart is torn.

I see in you,
What is in me,
And wonder how that could be,
For I was alone on an endless,
And believed there were no more like me.

I would sell my soul,
If I could soar across the skies,
and be there kissing your sweet lips,
and gazing deeply in your eyes.

You woke in me what once was dead,
And made everything so crystal clear,
Now I would give that all away,
For you to be always near.
---
:Song of a Hero:

"Bless me Lord and Lady on this day of tribulation. I go off to avenge the spilling of my brothers' blood. May the prophecies be fulfilled. May the slaughter of my kind end, and may their reign as the chosen ones, the true children of the earth begin."

The field had been stained,
With the blood of the brave.
For a year our king's body,
Has lain in it's grave.
I will not stop fighting,
`Till vengeance is served.
The death of their nation,
Is what they deserve.

Chorus:
I am the Avenger!
I kill all the swine!
I will not surrender!
This day is mine!

They plundered our city,
Looking for gold.
The next time they face us,
They won't be so bold.
I tore up their fields,
And salted the soil.
The crops they had planted,
Have been left to spoil.
I burned all their cites,
And freed all their slaves.
Stripped them from power,
And desecrated their graves.

Chorus
(Ok, I usually don't EVER give interpretations of my poetry, but in light of current events I don't want this one misread. This poem is about Rome and Carthage. It is Anti-Violence and Anti-Revenge. It is not about, nor do I support and violent act by this country, no matter what the reasoning!)
---
:Human Nature:

I drove the nails
I wove the crown of thorns
Gaze into my eyes
Look at my face
Can you see my horns?

Chorus
I am the reason for the crucifixion
I am the reason for hell
I am the father of the slayer of Christ
Your soul is what you must sell

I was the closest one to God,
Until my fall from grace
God could not conquer me
He just turned and hid his face

Chorus

If you haven't figured out who I am
I will tell you right away
I am Man
I am Human Nature
And I am here to stay

---
:More than life itself:

I see you walking with him down the lane
I feel like I'm without a soul
I can't stand the way it makes me feel
My tears start to fall like rain

I hear a voice in the distance
Your soul is calling to me
I am imprisoned in my loneliness
Only your love can set me free

Chorus
I'll give you everything you want
I kiss the ground you walk on
If I can't be with you forever
I feel I can't keep going on.

I can do the things that he can't do
I'm the one who will treat you right
My passion burns deep inside
The only thing I want is to be with you

Chorus

He won't treat you like I can
I'll give you things that he can't give
I'll give you pleasure you can't handle
Please won't you let me be your man

Chorus

I love you more than life itself
---
:Seduction:

You say I'm like Lucifer
By the way I tempt you
You say I'm like your drug
By the way I make everything real

So taste me I'm so sweet
So eat me I'm so true
So feel me I'm so real
So take me I make you feel alive

Chorus
So go ahead and eat of the forbidden fruit
Forget about all the rest
For the tree of Knowledge
Always was the best

You say I make you feel so good
You say I make you feel so bad
You say this feels so right
But you say you know it;'s wrong

I don't know what to do
I don't want to hurt you
I don't know what to do
But I know I want you

Chorus

All you have to say is stop
And I will
All you have to say is who
And I'll kill

I never knew lust could be so strong
I never knew something could feel so right
I don't know what to do anymore
Won't you help me through the night

Chorus

If you want me to stop then say it
But don't drag me around
You said we should hide our feelings
But living a lie never got us anywhere before

I've never felt this way before
And I don't know what to do
Should I leave the one I love
To come running home to you

Chorus

Are you afraid you'll fall in love with me
Or are you afraid I'll fall for you
Or is it that I tell you what's true
When all your life you've been lied to

So please help me understand
Please tell me what to do
Should I try to hide my feelings
Or should I go on feeling for you

Chorus

So go ahead and eat me
I'm the forbidden fruit

---
:If only for one night:
I see you kissing him
It tears out my soul
I feel the color drain from my face
My blood runs cold in my veins

If I could only find the words
To tell you how I feel
If I only knew how to act
But unlike him I used to people

Chorus
I would give you all that I could give
I would sacrifice my life
To hold you in my arms
To love you, if only for one night

Can you not see the pain and longing
That burns in my eyes
Can't you see my soul dying?

Chorus


---
:I can't just forget:

Did you come to apologize
For what you've done to me
You were driving me to death
And were just too dumb to see

You've come to clear your conscience
To say sorry for your deeds
But what about my time you wasted
And all the pain you caused me

Chorus
You think a few words will erase what you did
Do you think I can just forget
After you caused me unbearable pain
And nearly drove me to death

You think it's so easy to forget about years of pain
I can't just forget about my life
You've been terrible to me before
And now you want to change

And since you pulled this stunt
I hate you more than before
I have always hated you
And shall hate you evermore

Chorus
---
:Longing:

Every time I see you kissing him
I am forced to choke back my tears
It takes all of my strength not to show how I feel
For I know what is right and what is wrong
But the longing in my soul
Seems to be oblivious to values

Every time you touch me
Be it a tickle, a hug, or just you brushing against me
I feel my whole body ache for you
Your laughter echoes through my mind
Your smile consumes my thoughts

Even though you have never been anything but nice to me
You come off rather indifferent
But I guess that is easily explained
By the fact that compared to how I feel
The want of food by a starving man
Seems weak in comparison

Your beauty is unrivaled
Your voice like glorious music
Your smile is a paradox
Of the rapture of a child
And the longing the like of which
Have never been felt

---


---